Comfort measures for labor and birth
Saturday, March 9, 1pm-4pm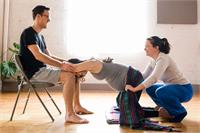 Comfort measures for labor and birth

with

Sara

Doyle

at Blue Point Geer Street
Sat, Mar 9, 2019 at 1:00 pm - 4:00 pm
Learn effective ways to manage the physical, mental and emotional journey of labor and birth.
This 3hr workshop is for pregnant individuals and a member of their birth team (partner, doula, sister, friend, mother, etc).
You will learn and practice:
1. hands-on techniques for alleviating the physical discomfort of labor
2. breathing techniques for riding out each contraction
3. focusing and mindfulness practices for staying present and avoiding feeling overwhelmed
Hand-outs will be provided for you to take notes on, and to refer to when you begin labor.
This is a great supplement to a childbirth education class for first-time parents, or as a refresher for parents who are experiencing labor and birth for a second, third or fourth time!
$65 per couple, members save 10%