Nicky Ulrich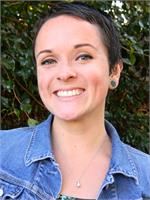 Nicky discovered her love of yoga high school at a local fitness gym in her hometown of Huntington Beach, CA. However, it wasn't until her personal practice became a part of her daily life while serving in the Peace Corps, that she uncovered her true passion for vinyasa yoga. Nicky earned her 200hr certification with a holistic physical yoga, yogic philosophy and Ayurveda science approach from Yoga Shakti in Southern California. While living in Oregon, Nicky taught at a local studio, Mudra Yoga Eugene, focusing on developing her vinyasa practice and a love for gentle yoga classes. Now living in North Carolina, Nicky brings yoga to the various communities she is part of. She continues to learn and practice in order to share with others, honoring the styles and methods she studies. Nicky encourages her students to cultivate focus and sense of calm through attention to breath and physical sensation, finding the balance of effort and ease through daily yoga practice.
Nicky Ulrich instructs the following:
This class is designed for students with some familiarity with yoga. The instructor will offer a variety of modifications to encourage participation of everyone. We do sitting, standing, and inverted postures, and suggest challenging variations for more advanced students, yet fun and non-intimidating options for those who need less of a challenge!




This class is a bridge between the Yoga Basics class and Flow Level 2. Creative sequencing and a focus on alignment will help student to move their practice forward. Although we don't practice advanced poses, you will likely still be challenged. This class is appropriate for beginning students. More advanced students are always welcome.