Castle Frame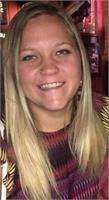 Castle started yoga after graduating from Massage Therapy school in 2015 when her best friend had suggested it to help relieve the stress of transitioning from a student to a full-time therapist. After a few home videos she was hooked. She realized she was capable of way more than she ever thought and took on the journey of becoming a dedicated and full-time Yogi, on and off the mat.
After two years of practice, Castle decided it was time to overcome her fears and take the next step to becoming a certified yoga instructor. Summer of 2017 she tackled the three week intensive 200 hr YTT with the lovely Sara Doyle at Blue Point Yoga, and it took her practice to a new level of knowledge in a spiritual, physical, and mental way.
In Castle's class, you will learn unique flows to enhance flexibility and muscle strength while applying different breathing techniques. She believes yoga is for everyBODY and as long as you can breathe, then you can do yoga.
You can usually find Castle upside down in a handstand somewhere in her favorite city of all time, Durham.
Castle Frame instructs the following: