Shannon O'Toole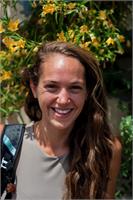 Shannon started practicing yoga as a college student in August 2011. At first she strictly got on her mat for the asana (postures). It wasn't until about a year into her practice that she started paying attention to her breath and truly became conscience of each movement. This is when she believes her practice truly started. She continued to feel inspired to explore what was beyond the physical practice of yoga, so in May 2015 she completed her RYT 200 hour teacher training in Wilmington, NC.
It is her goal to practice and teach yoga as she lives her life, mindfully and free of judgement and expectation. As a teacher, she hopes to guide students to whatever they need from their practice, as yoga is whatever you want it to be. In her class she likes to remind the students that they are truly their own teacher and she is simply the guide. She always strives to inspire students to cultivate their own power through their breath and to never give up on yourself or the Self.
Shannon O'Toole instructs the following:
This class is designed for students with some familiarity with yoga. The instructor will offer a variety of modifications to encourage participation of everyone. We do sitting, standing, and inverted postures, and suggest challenging variations for more advanced students, yet fun and non-intimidating options for those who need less of a challenge!