Holland Falls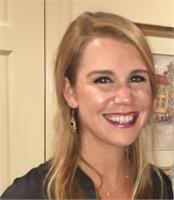 Holland began practicing yoga five years ago when she decided she needed some time carved out to better herself during a hectic college schedule. At the suggestion of a friend, Holland went to a vinyasa flow class and fell in love with the physical, spiritual, and mental transformations she felt. Having suffered a lower back injury as a child and finding decreased pain and symptoms, she had finally found the workout for her body and never looked back.
Holland moved to Durham from MS one year ago and completed her 200 hour yoga teacher training at Blue Point with Sara Doyle. As a nurse, Holland uses yoga as her main source of stress reduction and hopes to give her clients that same feeling of release in their own practice. As a level 2 class, clients are given the opportunity to build strength, endurance and concentration with a fast-paced flow and breathing techniques. Each student is encouraged to do what feels right for their body and practice while being given options for a more vigorous or simplified practice. For your practice, Holland encourages working with your own body and mentality based on the current day and not previous practice. She believes yoga is a day to day journey that each and every person can participate and flourish in. She is currently working on her MSN in Nursing Informatics through the University of Colorado.
Holland Falls is currently not instructing any classes.