Sara Doyle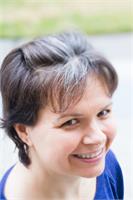 Sara Doyle (PhD, E-RYT 500) has a Ph.D in Anatomy and has taught anatomy at Duke University School of Medicine since 2003. She has a unique perspective on how the body works and the anatomical variation between individuals. Her yoga classes and workshops reflect a science-based perspective with an emphasis on smart movement and mindfulness.
Sara has completed two 200hr trainings - the first with Sarah Trelease, and the second with Srivatsa Ramaswami. She has also completed a 300hr training. Currently, Sara is enrolled in the MBSR (mindfulness-based stress reduction) teaching program at the UMass Center for Mindfulness. She has attended several retreats and trainings and incorporates mindfulness into her teaching at all levels.
Sara's yoga classes are physically challenging and energetic, with an emphasis on alignment, anatomy and mindfulness. She provides clear verbal and physical adjustments to allow the body to discover each pose and each moment. Her goal is to allow the practice to speak for itself.
Visit her website: www.saradoyle.com
Sara Doyle instructs the following:
This class is a bridge between the Yoga Basics class and Flow Level 2. Creative sequencing and a focus on alignment will help student to move their practice forward. Although we don't practice advanced poses, you will likely still be challenged. This class is appropriate for beginning students. More advanced students are always welcome.




Yoga Express is a one-hour flow class for folks with limited yoga time! All levels are welcome.