Anna Wears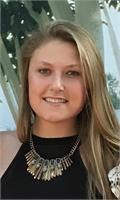 Anna Wears was exposed to yoga as a child and began practicing yoga early in her high school career. She played various sports, using yoga as a way to balance athletics and academics. After graduating from Durham Academy, Anna attended Wake Forest University, where she played on the Varsity Golf team. After sophomore year, Anna transferred to the University of North Carolina to focus on academics. This is when yoga became a more prominent focus and she completed the 200-hour yoga teacher training at Blue Point with Sara Doyle. Anna also completed a course in Transcendental Meditation in 2016.
Yoga is a grounding and enlightening experience for Anna. She feels it allows her to gain understanding of herself and her purpose, through asana, breathing exercises, and meditation. Anna wants to spread empowerment to others and encourage all students to reflect inward before reacting outward.
Anna Wears is currently not instructing any classes.