Bryanna Foote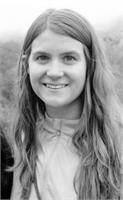 Bryanna tried yoga for the first time many years ago and thought that it was the worst "fitness" class that she had ever taken. Luckily for her, friends talked her into attending another class almost seven years later and she left the studio with a new sense of calm and contentedness. Hooked on this "yoga glow", she began attending classes regularly and was captivated by the perpetual joy and increased mental and physical awareness that came from the yoga practice. For the first time in her life, she was able to truly slow down and tune in to her mental and physical queues, which manifested in sixty pounds of weight loss, a deep sense of purpose, and an heightened ability to find gratitude.
She graduated from Dallas Yoga Center's 200 hour teacher training, and is dedicated to spreading the joy of yoga to new and experienced practitioners. Her teaching style and practice are influenced by Vinyasa style Hatha yoga with Iyengar based alignment principles. She is an avid fan of using props to encourage proper form and to make poses accessible to a wide range of bodies. She hopes that every student will leave her class feeling connected to their body and calm in their mind.
Bryanna Foote instructs the following:
The first half of class is a slower paced flow class designed to wake up muscles and improve range of motion. Class will end with a restorative practice, using props to support the body in a variety of poses. This class is appropriate for beginning students.