Jessica McGovern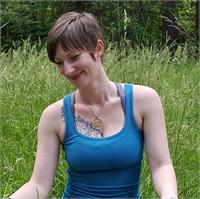 Jessica McGovern, RYT 200, started her path to Yoga upon reading Erich Schiffmann's' Moving into Stillness'. Taken as an avenue to connect and, perhaps more accurately, re-connect with the body, mind, and spirit, Yoga has proven to be a transformative experience. After several years of home practice, extensive research into the teachings of Iyengar, David Coulter, Desikachar, Yin and Restorative schools of Yoga, she completed her 200-hour training with Yogaworks under the tutelage of Sarah Bell at Triangle Yoga Shala. Jes believes that Yoga does not need to be constrained by one particular method or style but, rather, by synthesizing (and continuing to incorporate new knowledge) one can maximize the benefits of many different avenues to achieve internal harmony. She feels it is critical to embody the foundational principles of yoga: Sukha (ease and flexibility), Sthira (strength) and, above all, Ahimsa (do no harm). Yoga should uplift, inspire, ground, support, and relax the body, mind, and heart, with the intent that its positive effects be felt off the mat, present in everyday life.
Jessica McGovern instructs the following:



Deep stretch is focused on building flexibility through a series of held poses. It is an excellent class for active people who need to give some love to their tight muscles. This class is appropriate for all levels.




Yoga Express is a one-hour flow class for folks with limited yoga time! All levels are welcome.




Yin Yoga emphasizes the connective tissues through a relaxed practice of long, passive holds in specific postures. These asanas gently stretch and rehabilitate the connective tissues that form our joints, allowing us to maintain and restore joint flexibility. In this class, we will add a bit of slow, gentle flow at the beginning to warm up the body and end in the Yin practice to restore balance and ease. All levels welcome.