Natalie Teichmann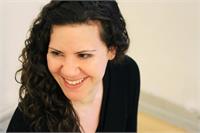 Natalie Teichmann, MFA, LMT, CYT, CMA, is a graduate of the University of Wisconsin-Milwaukee, where she received her MFA in choreography and performance in 2015. Natalie is the founder and artistic director of ANAHATA Dance, a New York and Durham based company focusing on site-specific performances. She completed her 200 hr Vinyasa Yoga Certification at Laughing Lotus in NYC in 2009 and taught around the city for 8 years before moving to Chapel Hill last fall. She is certified in Reiki; Vinyasa, Prenatal, and Aerial Yoga; Laban/Bartenieff Movement Analysis, and is currently pursuing her Alexander Technique Certification. Her classes focus on cultivating a deep awareness of the body at the cellular level in order to allow the breath to guide one's movement.
Natalie Teichmann instructs the following:
This one hour flow class is similar to a flow level 2 class, but a slightly faster pace. Modifications will be offered for newer students. Great for yogis on a quick lunch break!




Yoga Express is a one-hour flow class for folks with limited yoga time! All levels are welcome.




This class is a bridge between the Yoga Basics class and Flow Level 2. Creative sequencing and a focus on alignment will help student to move their practice forward. Although we don't practice advanced poses, you will likely still be challenged. This class is appropriate for beginning students. More advanced students are always welcome.