Ashley McCullough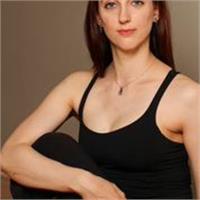 Ashley's first experience with Yoga was in college dance classes where her teachers often included Yoga in class. The first time she ever did Yoga in a dance class she could not stand it. She hated holding poses for so long, could not get her mind to shut up and the deep breathing made her dizzy… so she stayed clear of Yoga for a while. A couple years later, after graduating from Brigham Young University with a Bachelor's in Dance, Ashley found herself taking a little break from performing. Wanting to keep up her strength and flexibility, she decided to try Yoga again. In November 2011 Ashley stepped into her first Yoga class… this time, falling in love. After two months she signed up for teacher training at Yoga Bliss in Baton Rouge, LA earning her RYT-200 in April 2012.
Ashley loves the mind body connection and how every thing can relate to Yoga. She fills her classes with themes and puts an emphasis on intentions guiding the practice in order to keep your mental focus and find a specific purpose for each practice. Due to her dance training she tends to keep her students moving but enjoys finding still points, especially in balance postures.
Ashley McCullough is currently not instructing any classes.