Vivian Haesloop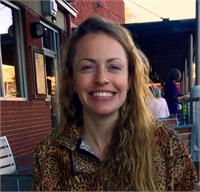 Vivian Haesloop began practicing yoga 7 years ago simply because she wanted the physical benefits of regular exercise, but she quickly realized the benefits of yoga aren't merely physical. By 2013, when she first moved to Durham and began attending classes at Blue Point, she already had come to see yoga as fundamental to the way she thought about and moved through the world.
This past year, Vivian moved back to Durham after several years of traveling and practicing yoga on the west coast, and decided she wanted to help others discover how yoga could improve their lives the way it had improved hers. To that end, she enrolled in the Blue Point 200 hr Teacher Training program with Sara Doyle. Vivian's classes are designed to help her students focus on the present, connect to their breath, and take the time to settle into poses and find alignment. When she's not teaching and practicing yoga, Vivian enjoys spending her free time painting in her studio and biking the Ellerbe creek trail in Durham.
Vivian Haesloop instructs the following:
Yoga Express is a one-hour flow class for folks with limited yoga time! All levels are welcome.




This one hour flow class is similar to a flow level 2 class, but a slightly faster pace. Modifications will be offered for newer students. Great for yogis on a quick lunch break!