Allan Stevens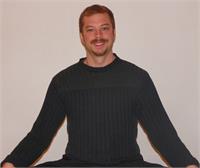 Allan took his first yoga class in 2003, shortly before beginning Massage Therapy School. His first studios were influenced by Anusara and Iyengar, where Allan developed an appreciation of the subtlety of alignment and the depth to which any pose can be explored. For three years Allan lived in Phoenix, where he attended the Arizona School of Massage Therapy, practiced massage in a day spa, and studied Yoga and Capoeira. After returning to the Triangle in 2005, Allan began taking Power Vinyasa classes. Power Vinyasa allowed Allan both to explore his limits, and to discover that the body is capable of more than we generally give it credit for. It is this ability that Yoga has to show us our strength that Allan brings to his classes. His background in bodywork lends his classes a strong anatomical focus, and his experience with Vinyasa and Capoeira make him unafraid to ask students to explore their own limits. In addition to teaching Yoga, Allan has attained a blue cord in Grupo Capoeira Brasil, giving him the level of Instructor. In addition to teaching Yoga, Allan teaches Capoeira at the Terreiro de Arte e Cultura, and operates Massage for Pain Relief, his private bodywork practice. When not teaching or doing massage, Allan can generally be found spending time with his two daughters.
Allan Stevens instructs the following:
This class is designed for students with some familiarity with yoga. The instructor will offer a variety of modifications to encourage participation of everyone. We do sitting, standing, and inverted postures, and suggest challenging variations for more advanced students, yet fun and non-intimidating options for those who need less of a challenge!